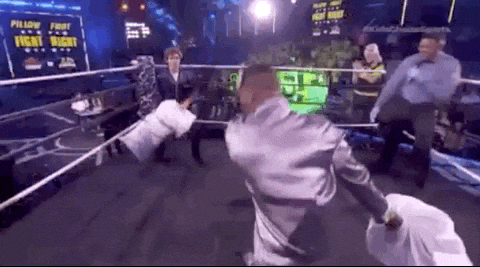 It's low-risk, easy to do and everyone has done it at least once. Probably more if they have ever been to a slumber party. It's pillow fighting and right now, it's being suggested as an alternative to horseback riding in the multi-sport of modern pentathlon (which also includes running, shooting, fencing and swimming).
And no, it's not April Fool's Day yet.
Back in November, the SDM Blitz noted that the multi-sport event of modern pentathlon had come under fire after videos of a rider and coach abusing a horse were widely circulated. The IOC put its foot (hoof?) down and declared that if the sport wanted to stay in the Olympic Games, it had to come up with a substitute for the equestrian component.
The IUPM, modern pentathlon's governing body, voted to remove horseback riding from the sport, and has already convened a focus group to discuss the new fifth component of the program. So yes, this is really going to happen – despite the ongoing complaints from those who say they will drop out of the sport as a result.
Howls of protest followed the announcement, with people dividing into three camps: Those who wanted the horses to stay in (saying it was tantamount to kowtowing to the IOC to remove it), those who wanted the equestrian component replaced with something else – and those who wanted a ringside seat to eat popcorn and see how it all would unfold. (Then there were the people who couldn't recognize modern pentathlon at all, but they weren't voting).
Well, for those who are sitting back and enjoying the show, here's something to add to your playlist: the U.S. just televised its first pay-per-view Pillow Fight Championship (PFC) in Delray Beach, Florida.
Yes, really. PFC's athletes, according to Inside The Games, largely find their way into the sport from amateur boxing and MMA. Athletes compete over three rounds.
"It is not something where you sit there and laugh and feathers are flying," PFC chief executive Steve Williams is quoted as telling Reuters."It is serious - it is hardcore swinging with specialized pillows."
Which sport do YOU think will replace equestrian? Take our one-question poll here!
Want to actually see PFC? Go here for more video clips.
Of course, that's not to say pillow fighting is going to be featured in the Olympics in the sport of modern pentathlon. It's just one of the suggested alternatives to the equestrian component - but one that is getting a lot of ink (for obvious reasons).
Another suggestion has been drone racing. The sport has shown year-over-year growth for about a decade and remains popular. (SDM profiled the Drone Racing League in 2017; here is a link).  DRL is a technology, sports and media company that creates drone racing content with mass appeal. Its CEO and Founder, Nicholas Horbaczewski, told SDM at the time that the public understood the sport on a basic level already, so it did not need explaining.
"Mostly, you mention the words, 'drone racing,' and people's eyes light up and they get excited, noted Horbaczewski. "They immediately start imagining incredible things. As a society, we have been primed to expect this for decades. Look at Star Wars and the battle scenes there."
Drone racing has advantages in that it's not a contact sport, meaning athletes could not come to harm learning or mastering it. It's also a sport that has gained quick acceptance among athletes in wheelchairs, who enjoy the adrenaline rush, as well as the out-of-body experience, it provides.
But pillow fighting and drone racing aren't the only contenders to replace horseback riding. Inside The Games notes, "The full list includes cycling (either mountain biking, motor cross or an electric format), roller skating, obstacle racing (either on water or land) steeplechase and hurdles running."
And yet another proposal on the table (just in case there isn't already enough pushback) calls for replacing the fencing component of the sport with some type of hybrid based on triathlon.
Which sport do YOU think will replace equestrian? Take our one-question poll here!
Modern pentathlon was left off the initial sports program for Los Angeles 2028 by the IOC at a recent meeting, and the IOC's president, Thomas Bach, warned the IUPM it had to "finalize its proposal for the replacement of horse riding and for the overall competition format" before the sport could be added back in.
Other IOC requirements for a new sport was "demonstrate a significant reduction in cost and complexity, and improvement across the areas of safety, accessibility, universality, appeal for youth and general public."
The UIPM has been given until next year to come up with a suitable alternative to riding – but it's likely we'll see at least some trials of new sports before then. Inside The Games states that Modern Pentathlon Federation of Russia President Vyacheslav Aminov claimed the new discipline would be tested at World Cups this year, starting with the season-opener in Cairo in March. Those involved in the decisionmaking process are supposed to have signed non-disclosure agreements, although Inside The Games got hold of some documents detailing the candidates.
Which sport do YOU think will replace equestrian? Take our one-question poll here!
About the Author